Mount Baker, Elevation 10,778ft
Coleman/Deming, June 1, 2002
1 day
Ben, Jason, Josh
Josh and Jason begin the traverse to the saddle.
If you've looked at my trips during the past few months you might be wondering about my fixation with the Coleman/Deming. Truth is, I don't care much for this route. It's the surrounding slopes that capture my attention. However, the Coleman/Deming offers the quickest route to the top and when you live less than an hour from the trailhead, it's difficult to resist.
The plan was to climb the Coleman/Deming and ski the Coleman Headwall. The same plan from a few months back when ice, avalanches and fear prevented us from even looking at our intended ski (see Winter 02). We hoped for good weather and stable snow but our only guarantees were a shorter approach and extended daylight. Unfortunately, nothing could rid my fear.
The Hummels drove up from Tacoma and arrived at my place in Bellingham around 10pm Friday night. We called Troy around 11pm but got no answer. He opted to sleep this one out. We scoped slides past midnight, tainting the little sleep I managed to squeeze in before our wake-up time of 2am. We stopped at the grocery store for some milk before continuing to the trailhead. Well, almost. Snow stopped us a mile and a half short but we were content after having skinned five miles of road our previous trip. There was at least one group of skiers preparing to leave and several others stirring in the dark. They must have been thoroughly annoyed by the time I turned my truck around. We left around 4:30am, a few minutes behind the group of skiers. I carried a headlamp and flashlight but neglected to use them, not knowing what our descent had in store. Josh was more concerned with the present darkness so Jason and I bummed off his. Consistent snow led us to the trailhead around 5am. There, we entered the trees and deeper darkness. Fortunately, the snow continued and the path was easy to follow. We passed the group of skiers near a creek where we veered south. Too soon, we reached the base of the glacier. The Coleman Headwall was in view and I was frightened. We rested and dressed while the group of skiers caught up. I wasn't planning on roping up until I saw them putting on their harnesses. The rope I carried was primarily for our descent but I figured if I'm going to carry it up I mind as well drag it. So, we roped up and left just ahead of the two French/Canadian couples.
The Hummels at the base of the glacier where we roped up.
Early birds.
As much as I hate to admit, we left too early. The snow hadn't even begun to soften and overcast skies threatened to keep it that way. However, there was no point waiting in the lowlands so we donned our crampons and continued. The Hummels insisted that we take it slow and I had no reason to argue -- until I saw two ants screaming up the glacier below us. It's not often that I see people in the left lane. They were quite a ways below us but I wasn't about to be passed. Unfortunately, I was leashed to the Hummels and we spent way too long at the saddle so they caught up.
The Hummels nearing the saddle.
Josh on his leash at the saddle.
"You mind if we pass? We hate to get caught behind such a large group..."
"We're not actually part of that groupů"
We got to talking and ended up climbing the Roman Headwall together. Jason mentioned that we might ski the Coleman Headwall and they seemed interested. They sported tele skis and T3s so I wasn't sure what to think. Frankly, I'm not sure they knew what they were getting into but then again, neither did we.
New snow gave way to ice just below the summit plateau. One of our companions didn't have crampons so they were forced to chip steps up the remaining slope. Been there, done that, but I had no patience to wait. The Hummels untied from the rope and I took off for the summit.
Cramponless companion on the Roman Headwall.
The Hummels near the top of the Roman Headwall.
Just before I reached the summit, a stranger asked if I had a cell phone. Oddly enough, I signed on with Verizon less than a month prior and happened to have my phone with me. Apparently, someone was injured below the summit on the opposite side of the mountain. They were requesting a helicopter rescue but weren't able to contact anyone outside of shouting distance. The person that I talked to heard their shouts but his friend's cell phone had no service. Mine did so I was able to call 911 and arrange to have Search and Rescue send a chopper. That's the short version. Here's the long.
I reached the summit around 11:30am. My cell phone service was off and on but good enough to call 911 and arrange to have Search and Rescue call me back. We explained that the injured person was with a partner who reported a broken leg and head lacerations. Two other partners went for help. We estimated it would take them a good portion of the day to reach the Mount Baker Ski Resort where their trip began. This led to more questions, to which we didn't have answers. We could no longer hear the injured party from the summit so I set off down the mountain. I descended nearly 1000 vertical feet before I could hear them, stopping next to a rock spire on the Cockscomb Ridge. They were another 500 vertical feet below me on the Park Glacier below a bergschrud. The injured person was conscious, with possible broken ribs and minor head lacerations. No broken leg. They had a sleeping bag between the two of them but said they weren't prepared to spend the night. Their camp was nearby but presumably, out of reach. I also got the injured person's name. With that in mind, I made my way back to the summit. This was not an easy task as I neglected to bring ski poles or an ice axe. A fall would not have been pretty.
The strangers relayed my information to S&R and we waited to hear back. My phone was the only means of communication so there was no reason for them to stay. The Hummels and I took over.
S&R called back around 2pm and said a heli rescue was in progress. They said they would take care of us if we stuck around to help locate and rescue the injured party and requested that I take some bearings. I felt my map description was good enough but we agreed to stick around. They said we should expect a call back around 3pm. Whatever.
Jason and Josh getting settled on the summit.
A chopper flew in around 3:30pm. They seemed to spot the injured party right away despite a few clouds that had formed. For the next hour, they mind as well have been hunting for squirrels. The chopper hovered between us and the ski resort for a good 30 minutes. Then, as if they hadn't wasted enough already, they started dumping fuel. We figured they might try climbing to reach us but from what we could tell, they never got above 10,000ft. Instead, they made a few more passes over the injured party. Finally, around 4:30pm they started lowering rescue. By then we had enough. I took a photo and we left.
The rescue. The injured party is between the chopper's shadow and the bergschrud. I shouted with them from the saddle near the rock spire. Their partner's ski tracks are seen below the chopper's shadow.
None of us were enthused about skiing the Coleman Headwall. My game plan was based on the fact that we'd have enough daylight to climb out should we encounter an impass. After spending over 5 hours on the summit, that was no longer the case. We impatiently agreed to ski the Coleman/Deming.
Jason skiing the Roman Headwall.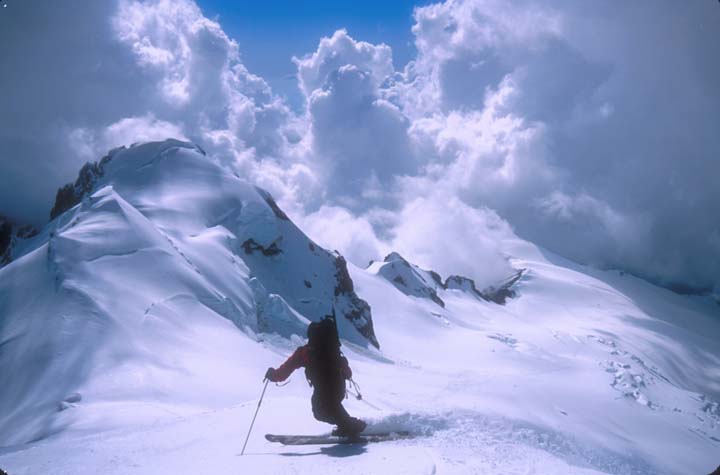 Josh skiing above the saddle.
Josh finding some excitement.
Josh carving some corn.
A look back.
The ski wasn't all that bad. We managed to find some exciting lines amongst the flats and the snow was as good as it got that day. Timing with the road couldn't have been much better as we were able to ski nearly all the way to my truck. We got back around 6:30pm.
I was upset that S&R never called us back but that's something they'll have to live with. Fortunately, the Coleman Headwall is much more dependable. I doubt that it would have gone that day because the upper slopes were awfully icy.
I could wait, at least a couple weeks. If nothing else, I wanted it more.
Click here for front page news with no mention of us: Local climber hurt on Mount Baker
Click here for my closure: Coleman Headwall, Spring 02