Old Snowy, Elevation 7,930ft
Spring 2000
1 day
Ben, Troy, Josh, Jason
Old Snowy from Lutz Lake. Ski descent from the summit is in red and continues down the basin to where the snow meets the thick trees. Mount Gilbert is seen on the far left. Note this photo was taken during
Spring 99
.
Troy and I were at home visiting our parents in Yakima. The Hummels were at their mom's place near Spokane. Somehow, we managed to let the past few days of good weather slip by. We knew there would be at least one more day of sun before a storm moved in. Something needed to be done.
Troy and Jason wanted to try Old Snowy in a day and now seemed like the ideal time. Josh and I had skied it a few months earlier but we were more than willing to do it again (see Old Snowy, Winter 99). A day trip this time of year had the benefits of warmer temperatures and extended daylight. We arranged to meet at the trailhead around 7am. The Hummels ended up sleeping there the night before on their way back from Spokane. I was surprised to find them awake when we got there. They had more or less everything they owned in the back of their Sport Truck, half of which was packed and ready to go. We left the trailhead around 8am.
The first part of the trail can be enjoyable as long as you're not wearing ski boots. You get used to the 30lb daypack and become thankful that you're not carrying an additional 20lbs of overnight gear. The skis can be a little annoying as you have to duck every tree under 10ft high. Ski boots add an extra 2ft of width. I often wonder what the animals think of us.
We made good time to the PCT and on to the familiar basin. The conditions were as expected -- consolidated corn under sunny skies. One thing we didn't expect was to see people. There was a tent near our previous camp and quite a few ski tracks littered the surrounding slopes. I say littered because there were not the kind of tracks that I enjoy seeing (the short and narrow kind that you see in heli-ski advertisements). Ours would be much longer and wider with some personality in between. Anyway, we eventually spotted them about a mile ahead of us. We stopped to put on skins and ditch some clothes. We knew they had already beat us to the top so we took our time. Something had eased our competitive instincts. Whatever it was, it didn't seem to affect Josh as he took off 15 minutes ahead.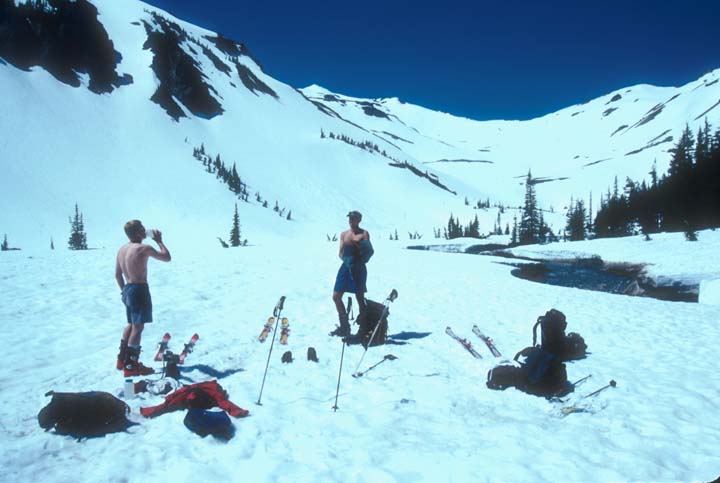 Chilling in the basin. Jason gets a drink while Troy fiddles with his fleece.
Soon we were all on our way. Josh chased the tight turners while the three of us followed our original route up the middle of the basin. It was probably around 1pm but we were in no hurry. The snow kept getting softer in the afternoon sun and we welcomed every bit of warmth that it offered. We were more concerned with getting a good tan than with avalanches.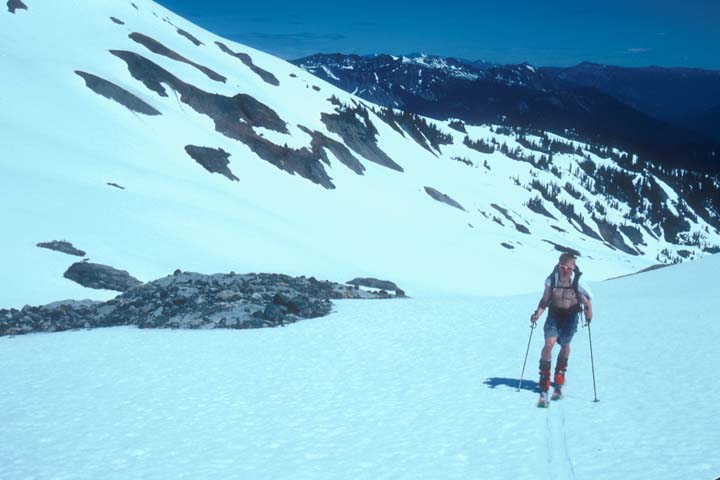 Jason
skinning
, halfway up the basin.
We meet up on the top around 3pm. We found the register and signed in once again. I wandered aimlessly in search of new photos. This was the third time that I had been there in less than a year. Everything seemed different although little had changed. I could never get tired of being in such a wonderful place and it will never grow tired of having me.
Josh and Troy on top looking north towards Mount Rainier.
The
Hummels
on top. Who knows what they're thinking.
Troy poses with his fat skis in front of Mount Adams.
Our skis eventually convinced us to leave. We knew that it would take a good three hours to get back to the car. It must have been around 4pm so that left us with just enough light as long as nothing went wrong. I set up for one last photo as Josh managed to catch some air off the top. We added some much needed taste to our turns. They would all be gone in less than a week but it still feels good to leave something.
Josh drops in off the top.
Jason adding some taste to his turns.
The tent was gone when we got back. They must have left while we were on top. We ended up passing the couple a short while later. They seemed as surprised to see us as we were to see them. We told them that we were there for the day. This was their third. We envied the time they had spent although we knew that we'd be back soon. Short and sweet will never end.