Ohanapecosh River
Class V (V+), 128fpm, ~200-250cfs
November 16-17, 2002
Jason, Josh, Ben, John, Travis
Author: Jason
Travis running one of many small pourovers on the upper section.
The Ohanepecosh River wasnít the original plan for Saturday. I donít know how it became such, but in any event there we were at the lower put-in staring at the flow, wondering if we should just go for it. My guess is that it was around 2pm, the flow was way below recommended, and neither of us had been down this river before. At that point our only plan was to get to the take-out before dark. Troy stayed and set up camp. We told him we should be at the take-out sometime around dark.
Leaving from camp, we skipped the upper section of the run. We figured we would get to that tomorrow when John, Josh, and Travis showed up. We also figured there would be more water since the rain pelted our kayaks as we set off. Rain was good yet for now what we had was plenty.
The first drops were congested chutes around boulders and small pourovers. A few were challenging enough and one or two were pretty ugly. At higher flow they would be very mean creatures to mess with. One piles into a flat rock on the left with a small chute just wide enough for your kayak on the right. Sideways would be painful. The other was a pourover that pushed you into the wall. I didnít scout and as a result, was pushed into the left wall.
A long piece of flat water follows the first boulder garden. As that ends you come to a log-covered drop that offers a slide path on the left. For the sake of time we portaged.
The next hard drop caused concern mostly because this one offered a challenging portage. The left route was log-choked and the right route was rock-choked. We were able to climb on a massive boulder in river center. The only way off was to seal launch into a small pool. I helped Ben while he slipped into his kayak. After he went I was left to get into my kayak alone. This wasnít easy nor a comfortable feat. A fall to the right or backward would be unfortunate.
More boulder gardens followed. We rushed ahead until boat scouting became dangerous. Pulling out on the left, we climbed along the wall until we stood atop a huge ledge. Gazing down into the canyon at what could only be Elbow Room, I felt my heart race. Ben had his camera and I had my paddle. It looked as if I was going to go first. I stared, thought, and went to my boat. Paddling out to the middle of the river, I headed right. The first drop turned out to be more difficult than I had thought and maneuvering to the right challenging. Before going into the hole, I grabbed all the water I could. I felt myself go through and roll. I came up and back-paddled out. Hmm, not good. Ben made it down clean.
Jason running right at Elbow Room. The large rock to his left has water flowing beneath it but at this flow it was harmless.
Next came the 15-footer pictured near the front of Bennettís book. Ben went first. This dropped has another small drop above. Ben managed to get rolled a few times in this drop before going over the big one. At the bottom he was held for a few seconds before getting pushed hard right. My run was a bit cleaner but not by much. I got drilled at the bottom of the 15-footer and my nose plug came out. Thatís always pleasant.
Several slides followed, one of which we portaged due to wood. If you get a chance take a look back, Iím sure you will find the view well worth the effort.
The take-out would normally be an easy walk to the campground, but since the campground is closed, be prepared for a 20 to 30 minute walk to Highway 12. Troy met us near the end.
By the time we made it to camp it was dark. That night was pleasantly spent in the rain. The next morning we had a bigger crew, more water, and a longer run. We set off early.
Jason, John and Troy at camp.
The upper part of the river has some challenging ledges, but for the most part it is boulder gardens. There was one real ugly one that none of us wanted to mess with. The consequence was too much for the breath inclined. There is a picture of me sliding into a pool below this drop. I spent several minutes gazing up at this mess, especially at a sieve. WOW! The portage route is seen on the left of the photo. If you have at least 3 people you can pass boats down.
Jason putting in below our second portage.
John boofing through one of many boulder gardens.
The canyons and pools were beautiful. Moss, ferns, shrubs, and trees sought shelter from the floods. At one point I found myself ahead, scouting the next drop while the others showed up several minutes later. I wasnít sure what to tell them. The chute on the left wall had a log in it. If you went far left you could get under it, but there wasnít much room, maybe two feet. Ben made it under, but that didnít leave him much speed for the next drop. John and Travis squeaked over it on the right but still got pushed into the wall. Everyone flipped in this drop but me (watching helps). Josh was pushed into the left wall and held there. He had to battle it out for sometime before he was let go.
Travis trying to figure out which way is down. The log chute is just around the corner.
One of the best drops in this section was a big slide. It doesnít look big in the photo, but that is often the case. Stay left. You donít want to get too far right. A few of our group spent some time over there.
Josh running the big slide.
The next section went much like the day before and since we were familiar with it, we picked up the speed. I pulled out below a pourover that again pounded me. I found in one of the ledges a 1942-dime. Cool. A few of us went back to camp before heading off again.
Josh running a fun ledge below Summit Creek.
Everyone seemed to be having as much fun as Ben and I did the day before. My day took a turn for the worse when I thought I could squeeze between some boulders. As my front went down, I saw that there was no outlet. My stern was munched and I squirted up. As I came down and rolled up, I kept getting beat and finally stuck. I pulled, but my leg didnít get out fast enough. After a brief struggle, my weight was off. I sat up on a boulder and drained my boat thinking about how a small error can become a big one.
Below here was Elbow Room. I eddied out left and ran up on the rocks. Ben was considering the left side while John headed for his boat. He ran it right based on our previous day's success. The hole gave him some trouble but he held on and paddled out. Ben took the left chute as did the rest. Travis had trouble up high but managed to keep it together. There is a log in the left chute that presents something of a hazard but we all managed to get around it. John and Travis returned later at higher flows and some of their group was able to run it left.
Josh running left at Elbow Room.
The next several drops went much like the day before until we arrived at the waterfall. We all had a great time with this drop. Some of us were eaten in the drop above and rolled several times, but thatís about it.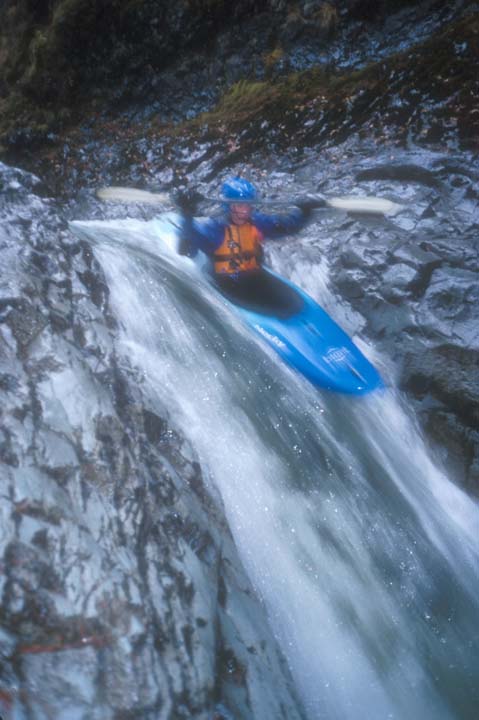 John running the 15-foot waterfall.
After that, we cruised the remainder and carried our boats to the car. All in all it was a great weekend in a great place.
<![if !supportEmptyParas]> <![endif]>
<![if !supportEmptyParas]> <![endif]>