Ohanapecosh River
Class V (V+), 128fpm, ~550cfs (800cfs Cowlitz at Packwood)
October 19, 2003
Ben, Jesse, Leo, Jon, Justin
I've always dreamed about paddling the Clear Fork, Ohane, and Upper Upper Cispus in three days. Recent rain had brought these beauties back to life (and then some) and Justin and I were fortunate enough to have time to pick and choose. The Ohane was too high on day one so we ended up doing the Upper Upper Cispus. We were itching for the Clear Fork on day two and that took several hundred cfs out of the creeks along with some plastic from our boats. I didn't sleep much the final night fearing that the Ohane would drop below it's prime. After all, I had three newbies to introduce and we had our share of scrape boating on the Clear Fork.
Another chilly morning brought relief in the form of flow. The Ohane was holding steady at the highest I'd ever seen. This despite the fact that the gauge showed a mere 800cfs. Local Leo showed up around 7:30am and Jesse, Jon, Justin, and I were up within minutes. We set shuttle and took a peek at Summit Creek while making our way too and from the closed gates. The hike in allowed a few minutes for the morning clouds to clear. The first Class III reminded my muscles of where they'd been the past two days but the soreness was soon forgotten. Jon's patchwork fell apart during the first Class IV along with his hopes of finishing the river. The crack in his bow seemed to require some stitches. Leo brought a spare boat but it was left at the take-out. Nevertheless, with the campground close and a nearby road, we continued.
The first Class V was as menacing as ever. Leo had it dialed and Jesse was quick to follow. I'd seen my share of the left cleft so the others joined me in the portage. Below here we discovered a sticky slot followed by two fun ledge drops.
Leo running the first Class V.
(First Class V, Film: Ben, Paddler: Leo, 3.8MB)
Jesse clawing his way out of a sticky slot below the first Class V.
Below here, the quality rarely ceased. One blind rapid had a log at its base that must be skirted on the right. Besides that, it's pretty much follow the flow.
Midway through the upper section a tricky corner got the best of us. I was the only one to scout this drop (primarily to film) but in retrospect, it may have been worth all of us having a look. The rapid begins with a 3 to 4-foot ledge that is run down the center. Afterwards, you can scout and portage on the left or follow the flow and commit to the corner which presses against the right cliff. Leo went first and made it through upright. Next came Jon who pancaked into the meat with Jesse close behind. They both ended up flipping and Jon hit his chest pretty hard. Justin and I followed in similar form only I caught a fistfull and ended up breaking my shaft while upside down. My first roll was successful but it didn't take long to realize that I was once again up a creek with half a paddle. There's nothing like an abrupt switch to C1, you go to paddle and… wiff.
I was able to navigate the next log-choked chute which was familiar and quite friendly at this flow. A quick glance revealed some frightened faces except for Leo who knew that the eddy below is quite large. I waited there in agony while my knuckles were brought back to life from the worst freeze-thaw feeling imaginable. My blade bobbed up a few seconds later and I realized the shaft had broke midway through my grip position.
Leo joined me and explained that Jon had hit his chest pretty hard and wanted to hike out. With a sizeable pool and some Class III (ok, Class IV) below, we convinced him to continue to the campground. I had a breakdown but Jesse offered to switch paddles. Come again? Indeed, it seems that Jesse is a seasoned C1er so he saved me from running the next section with a paddle up my *$%. Turns out it was just the right length and he styled some Class IV that even I had difficulty with (damn bent shafts).
Jesse upside down in the carnage corner where Jon hit his chest and I broke my paddle. Look close and you can see Jon's boat (also upside down) just ahead of him.
(Carnage Corner, Film: Ben, Paddler: Leo, 2.7MB)
Getting to the campground took longer than I expected. We stopped above the large slide and Jon decided to call it quits. Justin was still feeling sore from the last two days and didn't want to leave Jon alone so he opted to hike out as well. Our camp wasn't far and we met up after finishing a few of the more difficult rapids in the upper section. Jon offered to let me use his paddle so my breakdown stayed in its place and I returned Jesse's bent shaft.
We ran the slide on the far right, which was barely possible at this flow. The drops backed up by boulders had flushed and gave us little trouble. The ledge near our camp had a side flow that pushed Jesse and I into the left wall near the cave. Fortunately, neither of us flipped. Below there, we met up with Justin again who let Jesse use the other elbow pad that they had been sharing. We tried to wipe the smiles of our faces but the ecstasy was difficult to hide as the fun continued.
Leo running the ledge as an alternate to the slide at higher flows.
(Slide Ledge, Film: Ben, Paddler: Leo, 1.5MB)
Leo running the campground ledge with the cave visible on river left.
The next bit of flatwater was quite pleasant at this flow. Instead of dodging rocks, we threw BS.
There's a log boof coming up that you'll want to run left to right with right angle. "Ok, I'll follow you."
Leo and I took conservative lines, sliding a couple feet down the log before dropping onto a foamy pile that would make clouds feel green. Jesse (having never seen or heard of this drop) ran it as though he'd been practicing all night, sliding high and dry with just enough speed to prevent a backwards boof onto rock. This got us stoked so we practiced our rodeo creeking for a bit before the next series of Class V.
With a quick scout of the three-tiered drop we made our way to Summit Creek and the lovely ledge below its confluence. Next came Elbow Room, which Leo and I made sure to provide warning of. Despite a lengthy scout and repeated use of the words hole, sieve, portage; Jesse felt the right side was a go and decided to run it. Leo could do nothing but watch and I obligingly filmed.
Jesse's plan was to go right, center, and end with a strong ferry to the slide on the far right. In principle, you avoid the 'deadly hole' near the undercut table rock and a 10-minute portage. In practice, you end up in a log-choked chute on the left or in the hole on the right. Your chances of making it through are slim and your chances of being rescued are slimmer. Not a good bet, IMHO.
The first ledge forced Jesse to go right, which left him in an awkward position for the final ferry. With no angle to gain the slide on the far right he dropped into the hole. A rear ender from several feet out wasn't enough to escape the backflow and the aerated water gave little to brace or paddle off. A partial brace allowed him to stay in his boat for several seconds. He eventually went under, released his paddle, and swam. He hugged his boat twice for breath and then went under for longer than I care to count. I continued to film and mumble words of encouragement. Anyone who has seen this drop knows that there is a strong right-to-left current beneath the table rock. From my experience there is no way through for boat or body and I was pretty sure that was where Jesse ended up. I had nearly given up hope when he emerged beyond the table rock and into the pool below.
Jesse about to enter the 'deadly hole' in Elbow Room.
(Elbow Room, Film: Ben, Paddler: Jesse, 25.4MB)
Ohh… that's not good. The table rock is to his left. It is severely undercut and there is a strong right-to-left current beneath it.
Come out, come out, please. Note the body-heat-activated fog on the lens.
Jesse's paddle emerged a few seconds behind him and he was able to swim to shore a couple hundred feet down-river. His boat spent several minutes in the hole before catching a surge and getting booted. All was recovered and Leo and I met up with him at the end of our portage. I'm not sure what was said but we were mostly thankful to be conversing. To think that this was his second worst swim…
Several more ledge drops and the waterfall helped restore our good spirits and as the water calmed we were reminded of the scenery.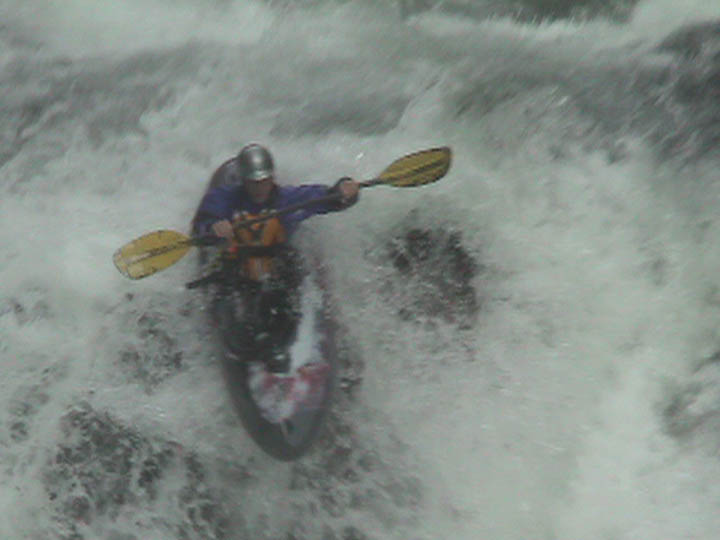 Jesse running the waterfall in good spirits.
(Waterfall, Film: Ben, Paddler: Jesse, 4.2MB)
The hike back to the car was painless after all that we'd been through. Jon and Justin were waiting at the gate. We filled them in on the good, the bad, and the ugly. The shuttle was completed, numbers exchanged, and we each went our separate ways. The drive home gave me some time to reflect.
My first weekend with the video camera has left plenty of reminders, no regrets, and a message for all you crazy Oregonians -- SYOTR!