Cooper River
Class V, 107fpm, ~700cfs
July 14, 2002
Ben, John
Author: John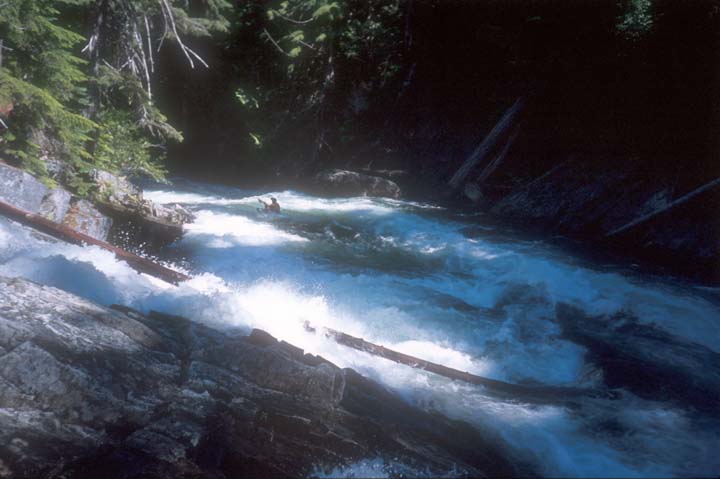 John heading for the ledge below the first 10-foot slide.
After a fun sprint down the Cle Elum, we were ready for more. At least Ben and I were. Since I had not done the Cooper before, I wanted at least three in our group. Travis had broken his paddle on S-Turn that morning, so he was out. After some cajoling and some good natured questioning of their respective manhood, Ben was able to convince Jason and Josh (the Twins) to paddle the Cooper with us.
After the scramble down to the put-in, I had to check my enthusiasm. I had seen some pictures of the waterfall, but none looked like THAT. It was pumping. As Ben asked me if I STILL wanted to do this, I realized two things. First I had to look down river. If I kept looking at the waterfall, I would surely talk myself out of this paddle. Next I had to focus on the idea of dragging my kayak back up the hill. Enough thought, I'm in. Ben had to convince (again) the Twins that it an okay level to paddle. We were guessing the flow at 350cfs. We knew it was higher (much much higher), but whatever it takes to convince one or both of the Twins.
Travis and Ben's brother Troy had hiked about 20 yards down on river right. Neither of them were boating, but they wanted to give us a proper bon voyage. Boulder hopping was too much effort for me. It would be easier for me to scout from the left side. As I settled in my boat my nerves started to settle down as well. I could see Ben nearby waiting for me to take a look. At one point, I saw the Twins waiting as well. I ferried across the river, above the first 10-foot slide. As I am climbing out of my boat I hear shouts. Shouts of joy? Not exactly. "Swimmer, swimmer". Wait, I haven't seen any other boaters all day. We are all here, above the slide, aren't we? Who could be swimming?
Low and behold, the Twins were getting inpatient with my and or Ben's pace. Josh, who was paddling a borrowed boat, could not escape the jaws of the hole below the first 6-foot drop. Knowing the danger of blindly paddling an unknown rapid to assist in a rescue, only creating a second victim, I took my time. After boat scouting and getting some verbal tips from Ben, I made it past the 10-foot slide (boy is that fun) and the 6-foot drop.
John at the base of the first 10-foot slide.
After what felt like miles (several hundred yards), Ben and I eddied out above Norm's Resort. With our now reduced group, we decided to portage it. Just below Norm's we saw one boat on river right and one boat on river left but no Twins. Hiking up the river from each side were two uninjured, but very frustrated brothers. As it turned out, Jason had rescued Josh's paddle, but then flipped in a hydraulic. In rolling up, he lost both of them. Two brothers, two boats, zero paddles. So much for my comfort level of three or more on this trip. Oh well. The rest of the day for Ben and I was easy compared to the Twins Class V+ hike out of that canyon, not to mention Josh's breathtaking swim through Norm's. Ben and I proceeded down intent on finding the paddles and having some fun. For a first timer, the drops were a real kick. We had an exhilarating time. We ended up portaging a logjam below Norm's and limboing a few others but most of the drops were clean.
John limboing some logs below Norm's Resort.
The only drop that we didn't scout, Ben knew to run right. He disappeared over the 6-foot ledge and eddied out left for a photo. I followed in similar form, nice, and when I got to the eddy Ben had more good news. He came across Josh's paddle and was preparing to stash it up the cliff. That way, someone could come back with a breakdown and retrieve it. We didn't want to risk letting it go.
John running a 6-foot ledge. We found Josh's paddle in the eddy below here.
A plethora of ledges led to an ugly slide. The entrance was rough and the hole at its base was too large to contemplate. Lacking safety in numbers, we both agreed to portage.
John running one of several ledges.
The ugly slide that we portaged.
The final boulder garden required a limbo beneath a log. Make sure you give this a close look at higher flows. From shore, that is.
John running a fun chute above the final boulder garden.
John running the final boulder garden. The limbo log is the lowest of several seen above.
As the canyon walls started to ease up, we heard the sounds of cheers. As the adoring fans saw their heroes approach… Actually, the depraved sunbathers had not seen many WW denizens in their respective lives, so they didn't know any better.
Ben goes deep in the final chute.
Photographer: Travis
John cruises through the final ledge.
Photographer: Travis
The Twins made it out ok but we never did find Jason's paddle.
The first time down, that section of river felt like it was 4 miles long, not a mile and a half. All in all, it was an epic trip (at least for me). Definitely worth some laps at lower flows. On this day at this flow, one was enough.